Table of Contents: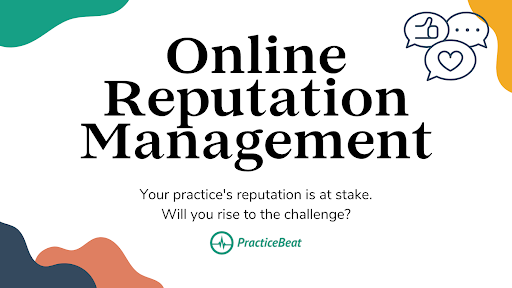 No matter what kind of business you run, whether it's a small private practice or a large hospital system, your reputation is your most valuable asset. How your patients and the people in your community view your practice is critical to your long-term success—it determines how much trust they have in you, how quickly they recommend your services to their friends and family, and how easily new patients will come in the door. Without making efforts to manage that reputation, you could be putting it at risk.
Before the age of the internet, a practice's reputation was difficult to track. It relied on word-of-mouth more than data-driven insights. It would have been known by its brand, or the way it presented itself to the world, rather than what the world thought of it. Today, your online reputation is out there for everyone to see, and what other people are saying about your practice can be more influential than anything else.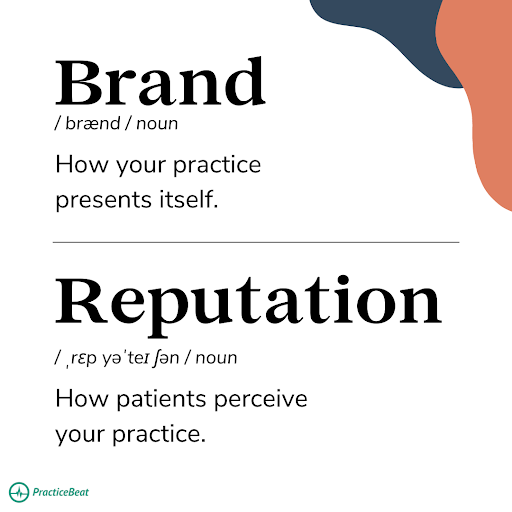 Think about how you shop online: a product with a strong brand may catch your attention, but would you buy it if it didn't have any reviews, or if the reviews were poor? Maybe you would try to find a website to learn more, but the one you find is outdated, ugly, or lacking information. Would you still trust that brand?
It's no different with medical practices. You can boast the most impressive credentials and promise the best treatments, but if your online reputation isn't up to par, patients are likely to go elsewhere. Search engines will take notice, too; when deciding how to rank search results, a business's online reputation is one of the first factors Google takes into consideration. By auditing your presence online, building a positive presence, engaging with your audience, and learning how to address negative reviews, you can help tip the scales in your favor.
Are you in control? If you're not taking the steps to manage your online reputation, you're leaving it up to chance. That's a gamble you can't afford to make.
Step 1: Audit Your Online Presence
The first step in managing your online reputation is to learn where it currently stands. How do people in your community view your practice, and how are your competitors viewed in comparison? After all, the only way to know how far you have to go is by knowing where you are.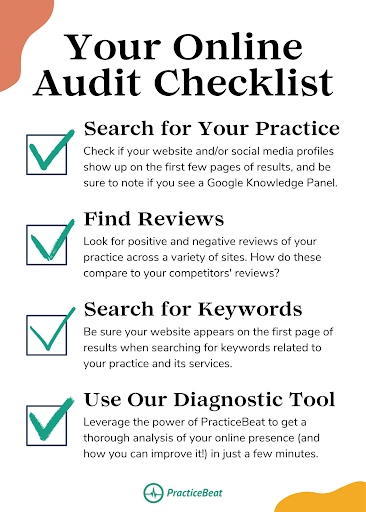 Start by searching for your practice's name and look at the first few pages of results. Does your practice have a Google knowledge panel? Do any of your social media accounts appear? What kind of reviews are on these pages, and how do they compare to the reviews of other medical practices in your area? If you search for keywords related to your practice, does your website show up on the first page of results? Do your competitors show up more prominently? These are all key indicators of how your practice is seen online.
You can also use PracticeBeat's diagnosis tool to instantly compare your online performance with the local competition and see what you can do to outperform them. In a couple of minutes, you'll get an in-depth analysis of your presence across multiple platforms and a list of changes that need to be made to improve your online reputation.
Step 2: Build a Positive Online Presence
Having a positive online presence means that when potential patients search for your practice or services online, they encounter content that presents your practice in a favorable light. Having positive reviews across multiple platforms is only part of the equation; creating high-quality content for the internet is just as important. It not only helps improve your visibility on search engines, but it also establishes your credibility and authority in your field.
Having an easy-to-navigate and expertly-optimized website, hosting informative and interesting content on said website, and maintaining active and engaging social media profiles are just a few ways to build a positive online presence.
Optimized Website
Think of your practice's website as its digital front door. It should be easy to find, nice to look at, and let potential patients know what to expect. A well-designed website is simple to navigate, features updated and relevant content about your services and staff, and makes it simple for patients to book appointments.
Additionally, search engine optimization (SEO) is key here. By utilizing the proper techniques, you can ensure that your website gets maximum visibility on search engines like Google, thus increasing the chances that potential patients will find your practice
Informative Content
Once your website is built, it's important to regularly update it with new information. Keeping your website fresh helps it to rank higher in search results, and it also gives you the opportunity to rank for keywords related to your practice.
As an example, if an ophthalmology practice isn't ranking for "AMD treatment," updating their website with a blog post about age-related macular degeneration (AMD) and their available treatments would give the practice a new opportunity to rank higher for that keyword.
Active Social Media Profiles
Having an active presence on social media is essential. With billions of people using sites like Facebook every day, a solid social media strategy will help you get your practice in front of new and existing patients.
However, it's not enough to simply have a profile. The algorithms on social media sites reward new and engaging content, meaning you have to post regularly in order to get maximum visibility.
With all of these elements in place, you can help shape the narrative around your practice to ensure that potential patients get an accurate and positive picture of your services before they even schedule an appointment.
If that sounds overwhelming, the good news is that you don't have to do it all yourself. Treatspace's comprehensive PracticeBeat platform can help you with online reputation management via a custom website, content creation, social media management, and more. Contact us today to learn more about how our platform can help you shape the narrative around your practice and build a positive online reputation.
Step 3: Engage With Your Audience
Engaging with your audience is a crucial aspect of online reputation management. Not only does it help to humanize your brand, but it allows you to show your audience that you value their opinions and feedback. Being engaged helps to build trust and loyalty, enhances your brand's image, and gives you the opportunity to resolve any potential issues before they become bigger problems.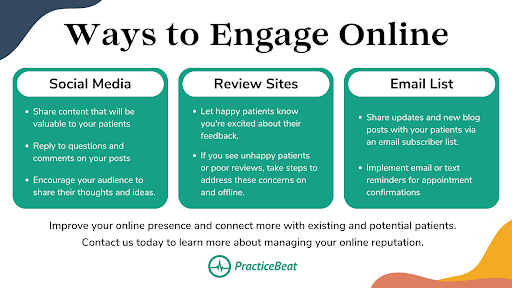 Replying to questions and comments on social media, responding to reviews on review sites, and interacting with your email subscribers are just a few ways to engage with your audience. Social media also gives you the opportunity to encourage your audience to share their thoughts, suggestions, and experiences, which can give you valuable insight into how to improve your services while allowing your patients to feel heard and valued.
Imagine engagement as the difference between a "one-way" monologue and a "two-way" conversation. Instead of just broadcasting information, you actively involve your audience by asking questions, seeking their opinions, responding to their comments, and acknowledging their input. This approach goes far beyond merely pushing out content; it's about listening, interacting, and building relationships. It turns your audience from passive recipients of information into active participants in a conversation, making them feel more connected to your practice.
Step 4: Address Negative Feedback and Reviews
No matter how hard you try, there will come a time when your practice must deal with negative reviews or feedback. Negative reviews can happen for any number of reasons, from a patient having a genuinely negative experience to fake or targeted reviews submitted by a competitor, a disgruntled former employee, or someone else who is trying to discredit your practice.
Regardless, how you respond to negative reviews is just as important as the review itself. To a patient unfamiliar with your practice, a potentially fake review could still be seen as real as any other. It's up to you to find the balance between responding thoughtfully to feedback and not giving too much attention to potentially fake reviews, but it's an essential part of online reputation management.
When replying to a negative review, be sure to respond promptly, acknowledge and empathize with each issue brought up, thank the reviewer for bringing it to your attention, and explain the steps you're taking to prevent the issue from happening again. This will demonstrate to potential patients that you care about their experiences, and it can help to turn a negative into a positive.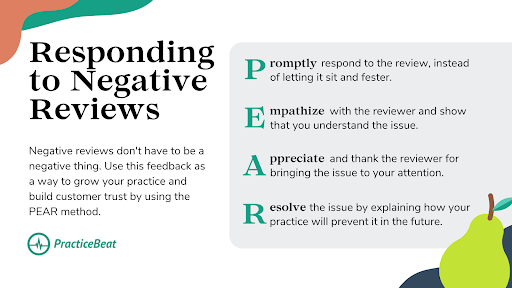 It's also important to keep in mind that negative reviews don't have to be a negative thing. Genuine negative feedback provides insight into how your patients perceive their experience with your practice and can be used as an opportunity for growth. By listening to this kind of feedback and making needed changes, you can help future patients have a better experience, build trust, and show existing patients that you take their feedback seriously.
Varied reviews can also add legitimacy and trustworthiness to your practice. After all, every practice has had a patient who was unsatisfied with their service. If one of your competitors only had glowing, five-star reviews, would you think their practice was simply the best around, or would you be slightly suspicious? Some companies aren't familiar with the FTC's guidelines on customer reviews, and some even go as far as to purchase fake reviews in an effort to manipulate their online reputation.
Having honest, varied reviews can help you stand out from the competition and show potential patients that your practice is trustworthy. This is also why it's important to avoid "review gating," or only asking patients who you know will leave a positive review to leave feedback. Every patient who attends an appointment at your practice should be encouraged to share their thoughts across a variety of review sites, from your website to Google to Facebook. Not only will this help you get a more accurate idea of what patients think about your practice, but it will also keep your practice in line with FTC guidelines and help to build legitimacy and trust with potential patients.
Step 5: Monitor Your Online Presence Continuously
Managing your online reputation isn't something you do just once and then cross off your to-do list. Rather, it's an ongoing process that requires consistent monitoring and maintenance. By keeping an eye on your online presence, you can help to maintain your practice's credibility and trustworthiness. It allows you to ensure that the public perception of your brand aligns with how you want it to be perceived.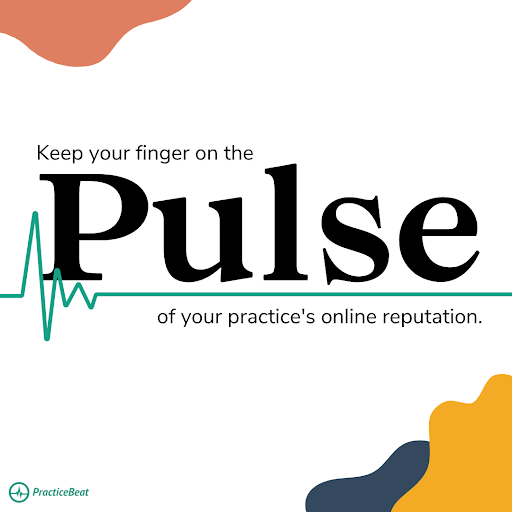 Monitoring your online presence involves keeping track of what is being said about your practice, watching for new or suspicious reviews, responding to reviews and comments in a timely manner, staying on top of any changes to your online profiles, and giving you insights into how you can improve your services.
With PracticeBeat, you can get the tools and support you need to manage your online presence easily and effectively. Our comprehensive platform helps you stay on top of your online reputation with patient surveys that allow you to get valuable feedback, live review alerts that keep you informed of new reviews, the collation of patient testimonials from around the web into one place right on your website, and more.
Your Online Reputation is at Stake
Online reputation management is essential for any healthcare practice looking to stand above the competition. It's the difference between potential patients making the decision to trust you as their healthcare provider, or simply moving on to the next available practice.
By taking proactive steps to ensure that your practice has a positive online presence, you can help to build trust and credibility with potential patients and ensure that your practice is seen in the best possible light. With PracticeBeat, you have the tools to make sure that your online reputation is well-managed and maintained. It's time to rise to the challenge—the success of your practice depends on it.
Don't let the competition leave you behind. Let PracticeBeat begin by preparing a detailed assessment of the top performers in your market and specialty. We will show how you perform, share insights into your performance, and tell you how to outperform your competitors. Sign up for a free assessment and demo today or visit our website to learn more.
Frequently Asked Questions
How can I remove negative reviews from the Internet?
So long as the review is genuine, it's illegal to remove a negative review under the Consumer Review Fairness Act. In fact, a clothing company that was found to be suppressing negative reviews from customers recently had to pay $4.2 million to the Federal Trade Commission (FTC) as part of a settlement.
In other words, though we understand why you might want to remove a negative review, it's not recommended, and it's likely to do more harm than good. Instead, focus on responding thoughtfully and authentically to feedback you receive. This will demonstrate to existing and potential patients that you care about their experiences and will help to turn a negative into a positive.
Can I offer my patients a discount for leaving a positive review?
FTC guidelines allow businesses to offer an incentive for a review, but the offer can't be on the condition, where explicitly or implicitly, that the review be positive. Incentives can be a great way to get more reviews, but you must ensure that patients are given the freedom to provide honest and authentic feedback—positive or negative.
Can't I just buy positive reviews to boost my online reputation?
No. Using a fake reviews generator or buying reviews on Google or Yelp is against their terms of service and could result in penalties. Additionally, buying reviews may also result in penalties from the FTC.
Instead, trust PracticeBeat to help you get genuine, credible reviews from real patients. After a patient has an appointment at your office, we'll send them a HIPAA-compliant survey at just the right time requesting feedback. Not only does this help you get insight into any issues that need to be addressed, but it also helps to increase the number of reviews your practice has and ensures that potential patients get an accurate depiction of your practice's reputation.