Word-of-mouth and referrals don't promote practices they way they used to. Why? 70 percent of Americans let online reviews guide their decision when choosing a doctor. Moreover, as many as 30 percent of web visitors will leave a site if the information is not patient-focused. To attract and retain patients and gain an edge over competing practices, it is incumbent on healthcare providers to showcase a solid online reputation and a useful, navigable web experience.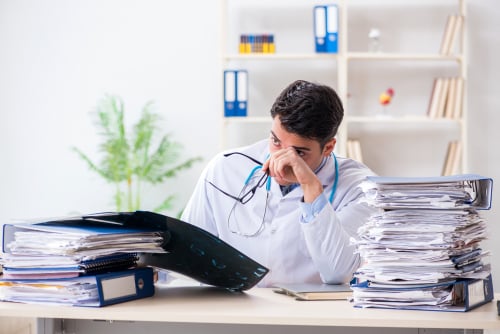 Providers that struggle to promote their practices online suffer from at least one of the following twelve weak points:
Smartphone Incompatibility
A staggering 80 percent of Americans look for information on medical conditions, treatments, and insurance online. Of that 80 percent, two-thirds use a mobile device while searching. A site that does not look good on a mobile device is an automatic deterrent to prospective patients, making mobile optimization mandatory for patient acquisition.
Too Much Fluff
Website content must be patient-focused and useful in order to convert the casual browser into a patient. Practice sites that contain irrelevant or redundant information unknowingly push away prospective patients, steering them instead towards another practice. A patient-centered site provides:

Informative service pages
An accurate contact page (current phone number, location, hours)
Active blogs with social links
No Online Scheduling CTA
Patients today prefer to book an appointment with the click of a (digital) button, rather than waiting to speak to someone on the phone. A prominently featured CTA (call-to-action), in this case, a 'Make An Appointment' button, is paramount to increasing bookings.
Slow Load Time
Nearly 50 percent of all site users will abandon a page if it doesn't load in 2 seconds or less. Mobile page load speeds are not to be underestimated, as mobile searches officially surpassed desktop searches in 2018.
Poor Navigation
As web visitors click through different pages of a site, it must be well organized to keep visitors from making a hasty exit. Sensibly designed home pages, drop-down menus, and text content directs users to where they need to go. Complicated layout → confused visitors → lost traffic.
Negative Reviews, or None At All
Nearly 90 percent of patients admit that they would not see a doctor with bad reviews. Similarly, a total lack of online reviews creates hesitation in would-be patients. Reputation management is made simple through automation, thereby empowering doctors to curate online ratings and use positive feedback to attract new patients.
Inconsistent Business Listings
Google indexes close to 60 business listings to assess the credibility of a business. If even one of these listings has an outdated map listing or incorrect phone number, the site automatically suffers in search ranking, and prospective patients give up and turn elsewhere for care.
URLs Not Optimized
Far too many provider sites contain URLs (universal resource locators) with a generic string of letters and numbers that in no way relate to the page content. A short, descriptive URL that matches the content of a page helps not only with link-building and search ranking, it encourages ongoing user interaction.
Absence of Conversion Tracking
Conversion tracking empowers providers to track where patients come from, and monitor all the actions those same patients take while browsing the site. Over 90 percent of practices fail to grow online due to not implementing any form of conversion tracking.
No Site Security
Sites that did not make the transition from HTTP to HTTPS are flagged as insecure by Google, effectively becoming a waving red flag for site users. Users will not (and should not) share personal information on an insecure site. Delivering data security bolsters both online visibility and user trust.
Missing Crucial Keywords
Keywords play a huge role in driving targeted web traffic to a site. Every page of a site, from a brief 'About Us' section to a detailed service page, has to include the words and phrases most popularly searched for by web visitor to maximize online visibility.
Images Without Alt Text
Whether it's stock photos or pictures taken inside of practice, high-quality images are only half of the equation for search rank success. Alt text describes the appearance and function of an image, and although they're invisible on a site, they signal to search engines exactly what the image contains.
Summary
Failure on even one of these factors can lead to major drop-off in potential new patients. Optimizing your practice's website to be free of these 12 issues requires swift, successful deployment of online presence management expertise. After reading these 12 ways that practices are losing new patients online, you're probably asking yourself "Is my practice at risk?" And the real answer is -- You might be.

It's been shown that healthcare providers that fail on even one of these factors can lead to major drop-off in potential new patients. And that's why we offer our Practice Analysis Tool for Free -- in order to help practices like yours understand what barriers prevent patients from choosing you.
Simply enter your Practice Name, Business Phone, Practice Email, Address, and Website URL, and our tool will analyze over 80 data points and deliver back to you an easy-to-digest analysis so you can start addressing any trouble areas.
If you have questions about what your analysis says about your practice, our team of experts is ready to connect with you to discuss what you can do to fix these barriers and improve practice growth. PracticeBeat is engineered to maximize patient access, acquisition and retention, and has consistently proven to yield high ROI across the board. We bring our practices comprehensive patient acquisition tools in a single inexpensive platform.