Table of Contents
Why Is Digital Healthcare Marketing Important?
Benefits of Private Practice Marketing
How to Get More Patients the Strategic Way
Overcoming Challenges in Medical Marketing
It's Time To Embrace Digital Healthcare Marketing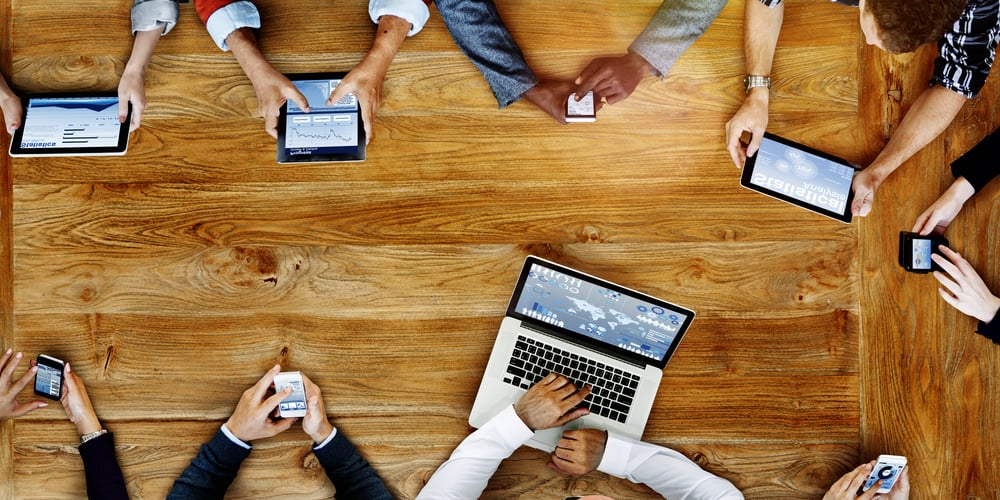 The primary focus of every practice should be on providing patients with the best possible care. When your patients visit your office, they want to feel cared for, listened to, and understood. When everything is functioning as it should be, your patients don't feel like just another customer; they feel like valued partners in their healthcare journey.

However, the reality of every practice is that it is a business. To keep your doors open and continue offering quality care, you need to attract and retain patients. Despite this, many practices fail to embrace digital marketing as a way to ensure the success of their businesses. In some cases, practice managers don't believe that they need to do any marketing at all, or they don't see the value in digital marketing and stick to old strategies instead.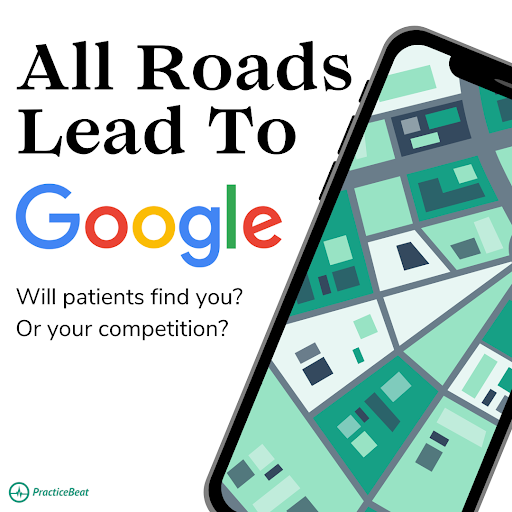 The fact of the matter is that, in today's digital world, it's no longer enough to rely on word-of-mouth referrals or traditional advertising methods. Google is the new phone book, and patients are now using the internet to research providers, read reviews, and compare services before making a decision.

As more providers recognize the importance of digital healthcare marketing, the competition for your patients' attention is only going to increase. If your practice isn't taking advantage of these strategies, you will be left behind. After all, in today's competitive landscape, marketing your practice online is no longer a luxury—it's a necessity.

However, marketing is too big of a job for just one person. It takes a team of experts who understand the intricacies of the digital world and how to use them to get the best results for your practice. The expert team at PracticeBeat, comprised of website designers, content writers, social media managers, SEO experts, and digital marketing strategists, can help you make the most of digital marketing and ensure that your practice is seen and heard online.
Why Is Digital Healthcare Marketing Important?
The healthcare sector is becoming increasingly competitive as independent practices strive to compete with large hospital systems. To be successful, smaller practices have to develop a strong strategy that allows them to stand out from the competition.
When a potential patient is seeking out a doctor, whether that be a new PCP or a specialist, their first step will likely be Google. If your practice isn't showing up on the first page of results, that patient is almost guaranteed to choose a different provider who is. After all, only 0.63% of people searching on Google will click on something from the second page.
This means it is essential to leverage digital marketing strategies and ensure that your practice is visible and engaging to potential patients. This includes everything from search engine optimization (SEO) and content marketing to social media, email campaigns, and more. By creating content that speaks to your target patient demographic, you can draw in the right people and show them why your practice is the best choice for their healthcare needs.
Benefits of Private Practice Marketing
In addition to attracting new patients and standing out from your competition, digital healthcare marketing can also engage your existing patient base and foster a sense of loyalty. By utilizing digital channels such as social media and email marketing, your practice can interact with patients on a more personal level. This ongoing communication fosters trust and demonstrates that you genuinely care about your patients' well-being, which in turn leads to increased patient satisfaction.
A strong online presence can significantly enhance your practice's reputation and credibility. By showcasing positive patient testimonials, sharing informative blog posts, and highlighting your team's expertise, your practice can position itself as an authority in your field. This not only attracts new patients but also reassures existing ones that they have made the right choice in choosing your practice for their healthcare needs.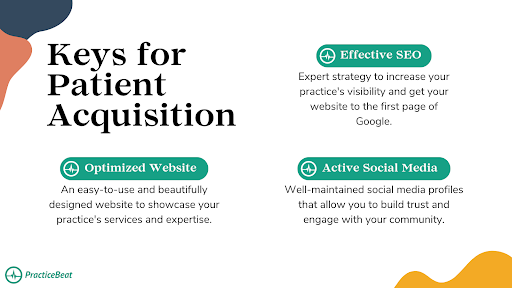 Ultimately, the goal of healthcare marketing is to attract new patients and retain existing ones. By investing in a comprehensive digital marketing strategy that includes SEO, social media, content marketing, and online reputation management for doctors, your practice can drive more traffic to your website, convert visitors into patients, nurture long-term relationships, and achieve higher patient retention rates.
How to Get More Patients the Strategic Way
The first step in building a robust online presence is creating a visually appealing and user-friendly website that showcases your practice's services and expertise. A well-designed website with engaging content not only attracts potential patients but also helps convey your practice's values and commitment to providing excellent care. It also serves as the perfect venue for showcasing all of your positive patient testimonials and online reviews, which allows you to demonstrate the quality of care your practice provides and build trust with potential patients.
This website also needs to be designed with SEO in mind. By optimizing your website for relevant keywords and phrases, you can improve your search engine rankings and increase your visibility. In turn, this makes it easier for potential patients to find your practice when searching for healthcare providers in their area, allowing you to attract more patients to your practice.
Additionally, it's important to establish a variety of digital marketing channels, such as social media and email campaigns, to further promote your practice and engage with both potential and existing patients. You can use these platforms to post updates about your practice, share informative content, answer questions, and respond to patient reviews in a timely fashion. All of this helps to build trust, engage with your community, and demonstrate your commitment to providing quality care.
Overcoming Challenges in Medical Marketing
Healthcare marketing is undeniably essential for practices looking to attract new patients and grow their business—however, it's not without its challenges. There are legal and ethical considerations to be aware of, the possibility of negative comments online, and with the internet landscape constantly evolving, it can be difficult to stay updated on the latest trends and advancements.
One of the primary challenges healthcare providers face when marketing their services is adhering to legal and ethical guidelines. Healthcare marketing is subject to strict regulations, including HIPAA compliance and specific advertising restrictions. It's also important to be accurate and transparent, as false or misleading information can result in serious repercussions.
At PracticeBeat, we understand these challenges. Our team of website designers, content writers, social media managers, SEO experts, and digital marketing strategists are here to work with you and ensure that your practice has the necessary tools to succeed in this highly competitive market. From developing an effective online presence to offering guidance on any roadblocks that might arise, we can help you create and execute a cohesive healthcare digital marketing strategy that will attract more patients to your practice.
It's Time To Embrace Digital Healthcare Marketing
Effectively marketing your practice serves to increase your community's access to high-quality care. In other words, when you invest in comprehensive digital marketing, you're not only helping your practice grow but also enabling more people to access the exceptional care you provide. Your presence online is your digital front door, and by investing in digital marketing, you can open that door to more patients and build a successful healthcare practice.
If your practice doesn't have a strategic, mindful marketing strategy for the online world, now is the time to start. Take the first step towards success and contact PracticeBeat today to discover how our team of experienced professionals can help you harness the power of digital healthcare marketing and propel your practice to new heights.
Don't let the competition leave you behind. Let PracticeBeat begin by preparing a detailed assessment of the top performers in your market and specialty. We will show how you perform, share insights into your performance, and tell you how to outperform your competitors. Sign up for a free assessment and demo today or visit our website to learn more.