Healthcare is a competitive space when it comes to online marketing, but the experts of PracticeBeat have created a comprehensive checklist of the strategies you'll need to succeed in growing your practice.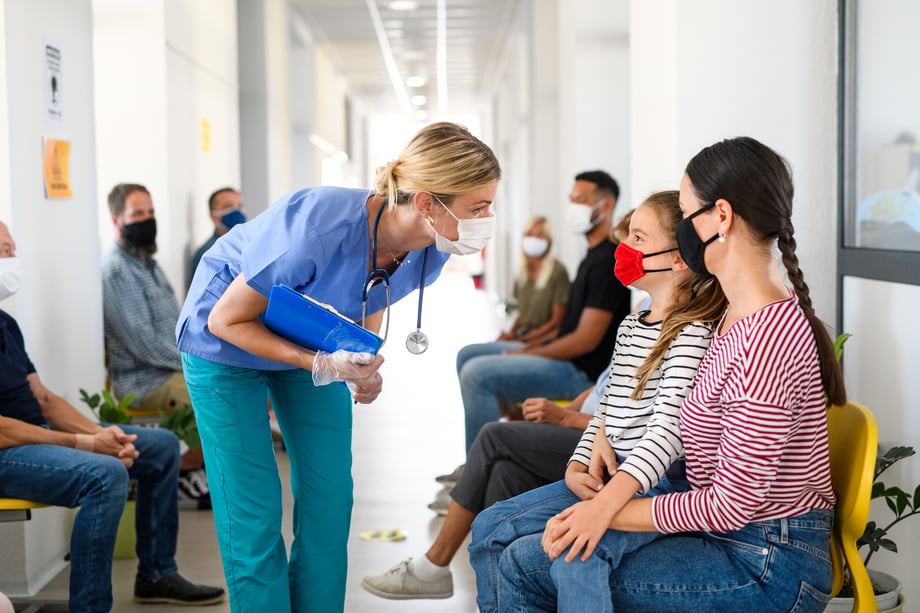 Table of Contents
With the vast majority of Americans now turning to the internet to search for healthcare solutions, it's more important than ever for providers to have a strong online presence. However, with so many providers vying for attention, it can be difficult to stand out from the crowd. The experts at PracticeBeat, the all-in-one practice growth platform, have put together an essential checklist for success in the saturated healthcare marketing space. Our checklist includes things like ensuring your website is HIPAA-compliant, utilizing organic optimization strategies like schema markup, and offering off-page strategies like Pay-Per-Click (PPC) ads campaigns. All of these strategies help to increase your authority both on and off of your website, allowing you to become a digital leader in the healthcare industry.
Download our easy-to-follow checklist that highlights the main best practices for creating a strong online presence, and start seeing higher conversion rates and higher returns on your investments almost instantly!
Want to learn more? Talk to one of PracticeBeat's expert strategists for more information about optimizing your online presence, protecting patient information, or increasing your social engagement. We work hard to set you apart from your competitors and give you back time to spend doing what matters most, taking care of your patients and growing your medical practice.
Before you read further...
As a medical professional, you know that there are a lot of moving parts to keep a practice running smoothly each day. Marketing a medical practice online is just one of them, and it requires a lot of time and effort. With the internet being patients' first resource to find information about healthcare providers, it is essential that medical practices have a strong online presence.
However, simply having a website is not enough. To truly succeed in online marketing, there are a number of key technical factors that must be in place. From keeping your website HIPAA-compliant to making sure you show up on searches and keep users engaged, there are many things you need to do to successfully market your practice online.
The experts at PracticeBeat, the all-in-one practice growth platform, have created a checklist of important strategies you'll need to use to expand your practice and acquire loyal patients.

Make Sure Your Site is HIPAA Compliant: Protecting Patient Information
As a healthcare practice, you are trusted with legally sensitive information. The importance of privacy and confidentiality in healthcare is prominent both in-person and online, so it is essential to have a HIPAA-compliant website. The Health Insurance Portability and Accountability Act (HIPAA) is a cornerstone of healthcare cybersecurity, and your practice is required to follow this regulation process in order to protect healthcare data and information. Ensuring that your website is HIPAA-compliant will give patients peace of mind knowing that their personal data is protected.
How to Keep Data Safe and Secure? Encrypt Sensitive Information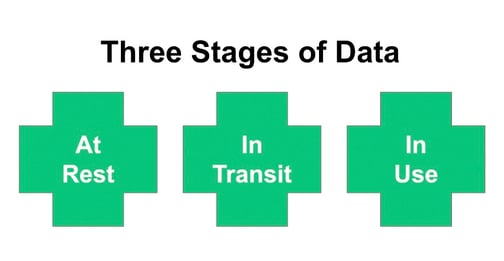 When it comes to protecting medical information, encryption is key. In order to maintain HIPAA compliance, you need to ensure that when you are transmitting medical information, the information is encrypted when in use, during transit and at rest when it is being stored. This means that if the data is intercepted while it is in transit, the person who intercepted it will not be able to read it.
For instance, one of the dangers of using email and messaging services is that many providers do not encrypt messages, meaning that they can be accessed by anyone who knows how to find them. This is a serious breach of HIPAA laws, as it means that sensitive medical information can be read by anyone who gains access to the server. This is why it is so important to use a secure service that encrypts messages.
Additionally, if the data is stored on a server or in a database, it should be encrypted so that even if the server or database is hacked, the hackers will not be able to access the information. Encryption is an essential part of keeping medical information safe, so if you are responsible for transmitting or storing such information, make sure that you are using encryption to protect it.
Many people use popular content management systems like WordPress for creating websites and blogs through agencies and on their own. However, many are unaware of the fact that WordPress plugins and forms are not always encrypted or HIPAA compliant. This means that sensitive information such as PHI and PII can be easily accessed by hackers. As a result, it is essential to store any sensitive information securely and to only use trusted plugins and forms.
Control Who Has Access To Your Patient Health Information (PHI)
In the age of digital information, safeguarding patients' confidential data is more important than ever. If confidential patient information falls into the wrong hands, it could be used for identity theft, fraud, or other malicious purposes. There are a number of steps that medical practices can take to ensure that sensitive information is kept secure. One such measure is controlling who has access to the data. By requiring medical professionals to log in with secure credentials and implementing an automatic log-off feature, you can help to protect patient information from prying eyes. Tracking who logs in and when is also a valuable way to ensure that only authorized individuals have access to the data. By taking these measures, you can help to keep patients' information safe and secure.
When your website is powered by PracticeBeat, you can offer your patients HIPAA-compliant forms that collect PHI securely and improve the patient experience. Click here to learn how PracticeBeat automates your workflow and keeps patients safe with HIPAA-compliant forms.
If you want a step-by-step plan to market your practice, click here to view our downloadable healthcare marketing checklist.
Pay-Per-Click Ad Campaigns: Know the Best Practices for a Successful PPC Campaign
As of 2022, 82.8% of patients use search engines like Google to find a healthcare provider, so it is important that potential patients find you first. One of the tools available to ensure that you show up on search and other platforms is to utilize pay-per-click (PPC) ad campaigns.
PPC advertisements are a form of online marketing where you, the advertiser, pay a fee each time someone clicks on your ad. The benefit of using this type of advertising is that you only pay when someone takes an action or makes a conversion, that you want them to take, such as visiting your website or giving you a call. You must use PPC ads as optimally as possible to get the best return on your investment by attracting potential patients to make a conversion.
Anyone who has ever looked into investing in healthcare marketing knows that the market is already quite saturated. With so many practices and hospitals in a specific area, all competing for patient attention, it can be difficult to stand out from the crowd. However, using a pay-per-click advertising strategy allows you the opportunity to enhance the number of times you populate a search results page for hundreds of different queries. This gives you yet another avenue to attract new patients and grow your business's ROI. Many people make mistakes when investing their time and money into PPC ad campaigns. Some common mistakes include:
Not tracking conversions correctly - It is important to track how many people are clicking on your ads and then going on to schedule an appointment. This will help you to gauge the effectiveness of your PPC campaign and make necessary adjustments.
Targeting the wrong keywords - You need to carefully select the keywords that you want to target. Choose keywords that are relevant to your practice, in the location you are targeting, and that potential patients are likely to search for when looking for healthcare services. Conducting research into the keywords that lead patients to engage with your practice will help you reach your goal.
Not monitoring your budget efficiently - PPC campaigns can be a very effective way to generate leads, but it can also be expensive if you aren't careful. Make sure you monitor your budget closely so that you don't overspend. Many people believe that you need a high budget, but you can strategically compete without spending too much money when you optimize your PPC ads to work for you.
In order to optimize your PPC ad campaigns and get the best return on your investment, you need to have a strong understanding of your services with data insights readily available. This means putting together campaigns and ad groups, including the quality keywords that relate to your demographics, and incorporating a full-scale effort that connects your ads strategy and SEO (search engine optimization) strategy to promote an easy-to-use website.
Be Aware of Constant Changes in Pay-Per-Click Policies
Google has updated its policies regarding speculative and experimental medicine, allowing businesses with the correct certifications and approvals to advertise such services. Previously, all advertising of these services was banned, but the new policy will allow for greater transparency and accountability. This change comes as a response to the growing field of regenerative medicine, which is still in its early stages but has great potential for treating a variety of diseases and injuries. Regenerative and experimental treatments used to be reserved for professional athletes or others in a small population, but with this change in policy, this medicine and its proper education resources will be more accessible to the public.
If your medical practice provides regenerative medicine to patients, this change in policy could improve your ability to market your services. It is estimated that keyword costs for these services may be high, since the medicine is not covered by insurance, but it also implies you will receive a higher ROI for these keywords when you successfully market your practice.
When your ad campaigns are run by PracticeBeat, all of these strategies are employed on your behalf by PPC experts who understand your practice's needs and goals. Click here to see how PracticeBeat helps you consistently bring in traffic to your website.
If you want a step-by-step plan to market your practice, click here to view our downloadable healthcare marketing checklist.
Conversion Rate Optimization (CRO): What Is a Conversion Rate and How Do I Improve It?
Once potential patients have found your website, it is important to have high conversion rates, meaning that they actually contact your practice to schedule an appointment or give you a call. A good way to achieve this is by securing your place at the top of the search engine results pages (SERPs) by running ads, as discussed above, or focusing on your organic presence.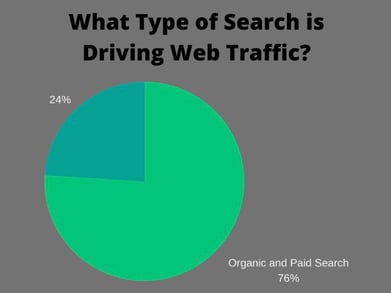 Organic and paid search drives up to 76% of website traffic, with the number one ranked result generating a typical clickthrough rate (CTR) of 39.6%, which is more than double the second position CTR. While PPC strategies are helpful, performing well in organic search is absolutely vital for building credibility and standing out amongst the competition. Using a combined approach of PPC and organic SEO strategies will help you to rank highly in search and acquire more patients.
Google prioritizes ease of use in its algorithm, so it is essential that you have a user-friendly website with correct, up-to-date information. As much as 48% of healthcare websites have basic mistakes like incorrect addresses, and 31% do not have local listings posted. This puts them at a disadvantage, as 71% of searchers will go to a different provider if a website is lacking information. Google monitors each user's location and behaviors, so if users stop engaging with your website, it can have a negative impact on your conversion rates and ranking.
It is important to employ both paid and organic strategies because even if you have good SEO placing your practice near the top, Google allows some paid ads to appear over organic (free) results. If there is high competition in your area, Google Ads could help your medical practice break through the organic search results. If you want to learn more about how to secure the number one ranking on Google, check out these strategies.
PracticeBeat creates websites complete with SEO strategies and offers continuous organic and paid strategies to keep patients engaged with your practice. Click here to learn how PracticeBeat makes data-driven decisions to boost your practice's engagement.
If you want a step-by-step plan to market your practice, click here to view our downloadable healthcare marketing checklist.
Schema Markup for SEO: Control How Patients See You
Alongside listings management and organically pushing out content, optimizing page titles, etc., another way to improve your practice's online visibility is by taking advantage of Schema markup. Using schema markup in the healthcare industry can help push your practice to the top of search results pages when potential patients are looking for more detailed information about your services, locations, reviews, insurance accepted, etc.
Schema markup is a code that helps search engines understand the content on your website. By adding this code, you can give search engines specific instructions about how to interpret your content. As a result, you can make sure that your website appears in relevant search results with more detailed information than your competitors.
For example, below you can see clients of PracticeBeat show up in the Local Pack based on "LocalBusiness" schema that was implemented onto their site. This is possible because they put in specified code (schema markup) to populate different attributions that Google looks for when populating businesses based on a "near me" search.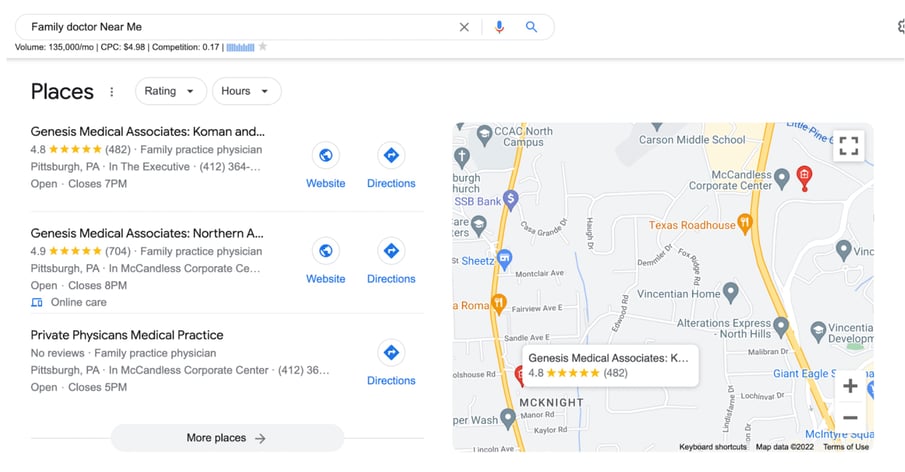 Using schema markup can help improve your click-through rates by providing additional information about your website in the search results.
Schema Markup allows Google to better explain your services to potential patients in an optimized way. Click here to learn how PracticeBeat utilizes Schema Markup for the healthcare industry to secure your place at the top of search results and grow your practice.
If you want a step-by-step plan to market your practice, click here to view our downloadable healthcare marketing checklist.
Check Off All the Boxes: The Platform That Does Each Step For You
Healthcare marketing can be difficult to navigate, with so many competitors and strategies to keep in mind. Ensuring that your website is HIPAA-compliant, using best practices for PPC to your advantage, monitoring your conversion rates, and making use of schema markup for SEO can be a lot to do on your own. When you are running your own medical practice, you likely want to focus on the day-to-day operations to improve your patients' lives.
PracticeBeat takes on the work of promoting your practice and digitally optimizing it with your goals in mind. By partnering with PracticeBeat, you can focus on what you do best - caring for your patients - while we take care of driving new patient traffic to your door.
PracticeBeat specializes in helping medical practices grow their online presence. We understand the challenges that come with marketing a healthcare business, and we have the experience and expertise to help you navigate the ever-changing landscape of digital marketing.
Our services include website design and development, pay-per-click (PPC) advertising, search engine optimization (SEO), reputation management, and social media marketing. We are a full-service agency, which means that we can handle all of your marketing needs, from start to finish. And because we understand the importance of compliance, we make sure that all of our campaigns and communications are HIPAA-compliant while maintaining a cutting-edge, user-friendly, and mobile-friendly designed website.
PracticeBeat digitizes the patient acquisition process and helps practices grow by providing the tools and expertise necessary to outperform the competition. Schedule a free assessment from PracticeBeat to diagnose the barriers to your practice growth today.
Click here to view our downloadable healthcare marketing checklist and kickstart your practice growth.
Reach out to your medical society to learn more about how PracticeBeat is acquiring new patients for practices, implementing effective digital strategies, and innovating marketing in the medical field.