When patients are beginning their search to find a new doctor, many start by looking online. It's important for healthcare marketers to use effective strategies to grow their online presence in order to stay ahead of competitors. Digital marketing is a great way for any sized medical practice to attract and acquire more patients online, but you need to understand exactly how patients find you and what they're looking for as they make a decision. If you aren't sure where to get started, read on for some great patient acquisition tips and digital marketing strategies.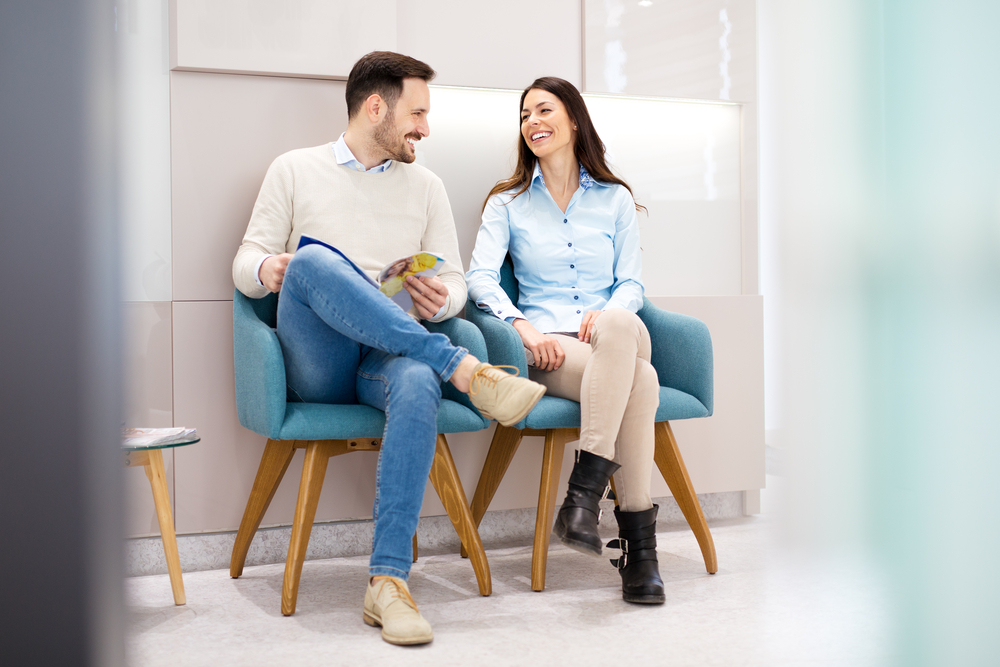 How can you align digital marketing efforts with points along the patient journey?
When finding a healthcare provider, every patient follows a journey. They start with a need, conduct research online, narrow down their choices, and finally make a decision on which doctor to see. This is where your marketing efforts should come in. Each step along the way gives you an opportunity to connect with patients. Each of your patients starts with the desire to find a doctor that fits their needs. It's likely that they will conduct a general search online for doctors in their area, which is where your SEO efforts come in. They see you listed with your website, hours, address, and a few positive reviews, and add you to their shortlist of doctors to consider.
When considering which doctor to see, they will likely check out your website and social profiles. Being active on social media, having an easy-to-navigate website, and featuring a blog on your site will let them know that you're savvy, active online, and responsive to their needs. From there, if they schedule an appointment, follow up with a thank you message and be sure to send email reminders. And once you've sealed the deal, be sure to always provide the best possible service and listen to any feedback your patients give.
During each step of this journey, patients are seeking different information, so it's important to think about your target patient and what they may be looking for and tailor what you provide to meet their needs.
What are the most effective ways to acquire patients online?
When looking to attract new patients online, it's important that you are visible to potential patients, and that they know how to get in touch with you. From the first connection they make with your practice, you have an opportunity to forge a meaningful relationship. Here are some things to consider:
Be Discoverable - if you want people to be able to find you, it's important that you're easily found! Building a strong online presence

means that you should have profiles on social media pages, and you should have your practice's details and contact information on all major listing sites, including non-medical sites like Google, Yahoo, and Bing, and medical listing sites like

Healthgrades

and

Vitals.

In addition, investing in a strong search engine optimization strategy means that your practice will be at the top of search engine results pages, making it easier for potential patients to find you.

Be Consistent - make sure that every listing you have online has consistent and up-to-date information. Even small discrepancies in spelling or punctuation can lead to sites creating multiple listings. If potential patients aren't sure of the right way to get in touch with you, it's likely that they will look elsewhere for a new doctor.
Provide a Good Patient Experience - from the moment a patient begins their search for a new doctor, it's important that you provide them with a helpful and user-friendly experience. Make sure that your website is easy to navigate and mobile-friendly, and make it as simple as possible for patients to schedule an appointment with you. Patient satisfaction depends greatly on each interaction you have, so make sure these interactions are as positive as possible.
Be Responsive - potential patients may reach out to you in many different ways, so it's important you respond. Check social media profiles and respond to messages and emails as soon as you can. If patients can expect to have their questions answered quickly, they will be more likely to turn to you when they have a need. Remember, patient safety comes first, so make sure all online communications are HIPAA compliant. It's also important to respond to reviews, both positive and negative, to preserve your online reputation. This lets potential patients know that you care about what people have to say.
What are the best ideas for marketing medical practices online?
There are a lot of great digital marketing strategies that any practice, no matter how large or small, can utilize. Here are a few ideas to get started:
Start a blog - creating a blog with a deep well of useful information can help patients see that you are a trustworthy source of data. Think about topics that would be helpful to your patients and post new articles at least a few times a month. Post about relevant topics whenever you can. For example, post about protecting yourself against the flu during flu season, or about how to stay healthy while traveling during the holiday season. At the end of the blog, a call to action can help to engage your readers. Ask them to contact you for more information or comment on the blog post to get a discussion going.
Invest in local SEO - a few tips that improve your SEO were already mentioned, like having your contact information listed consistently online. A blog with original, informative content can also help boost your SEO. SEO is all about letting search engines know that the information you're offering is relevant to what users are searching for and that you can be trusted to answer users' questions.
Send an email newsletter - ask your patients to provide their email address and agree to email communications. A regular newsletter that details what's going on at your practice and includes tips about how to stay healthy can help your patients feel like a part of a community.
Paid advertising - ads on platforms like Facebook and Google can help even more patients find your practice. Think about what terms your potential patients are searching for and base your paid advertisements around those terms.
What are the easiest ways to keep patients?
Any medical practice will tell you that patient retention is important, as it costs less to retain patients than attract new ones. But how do you get patients to keep coming back? A happy and satisfied patient will likely return next time they need medical services, so always delivering excellent service is key. Here are a few more tips:
Easy scheduling - your patients have busy lives, and scheduling a doctor's appointment is often something that gets put on the back burner, even though it's important. Making it as easy as possible to schedule appointments is one of the main factors that keep patients coming back to you. They want to know that making an appointment is painless and that they won't spend an hour on hold waiting to talk to someone. Setting up online scheduling is easier than ever, and you can make sure that patients remember their appointments with automatic follow-up emails. This means less work for your staff, as appointments get automatically put into a calendar, and easier scheduling for your patients, so it's a win-win situation!
Consistent and responsive communications - in today's digital world, there are more ways than ever for you to communicate with your patients. It's important to be clear and consistent across the board. Let them know that any way they contact you, you'll get back to them as soon as you can. Doctors' offices can sometimes come off as cold and clinical, which tends to turn patients off, so this is your opportunity to keep all your communications warm, friendly and personalized.
Helpful and relevant information - providing patients with valuable information will paint you as a trusted resource in the medical community. Your blog, your email newsletter, and your social media posts should be informative and engaging. Giving patients accurate information, treating them with understanding and respect, and being compassionate about their needs will help show them that you value them not just as patients, but as real, individual people. In addition, you should always follow up after their treatment is complete to see if they have any questions and let them know that you care about how they're doing.
Collect and respond to feedback - Always be sure to collect patient feedback after appointments either in person or with a follow-up survey. It's unlikely that every single patient you serve will be perfectly satisfied, but taking their feedback, both positive and negative, to heart gives you the opportunity to hear what patients have to say and proactively improve the services you provide. A patient who sees you making changes will quickly see that you are dedicated to providing them with personalized attention and assistance.
If you're looking to improve your practice's digital marketing strategy and acquire more patients online, now is the best time to get started. Following the steps above is a great place to start. To get a leg up on your competition, contact us for more tips and information. PracticeBeat is proud to help both small and large practices and health systems optimize their online presence and can offer you great tools to help with your online patient acquisition strategy.