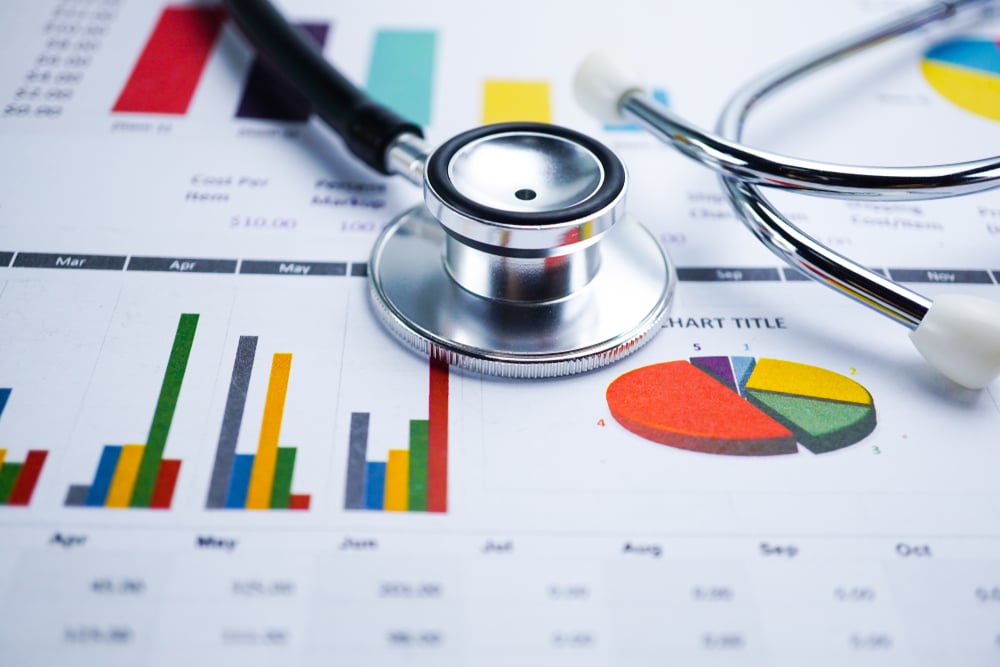 Table of Contents
In today's world, if someone is looking for a healthcare practitioner, the first thing they'll do is search Google for one near them. In fact, 80% of patients use internet searches to locate a medical provider, with 70% starting on Google. If you want your medical practice to be the one patients seek, you'll need a plan for differentiating yourself from the competition by ranking highly in search engines.
This kind of strategy can be difficult to do alone, so we've outlined everything you need to know about healthcare marketing, top strategies to rank the highest on Google, and how PracticeBeat can help you do it.
Why is it Important to Rank Highly on Google?
Simply put, it is important to rank highly in search because patients are more likely to visit the first result they see. In fact, 91% of searchers never make it past the first page of Google results, with only 9% of people making it to the bottom of the first page. If your practice falls on the third or fourth page of Google, it likely won't be discovered. It is in your best interest to do everything you can to land on the first page of search results and stay there. Some benefits of ranking highly on Google's first page include:
Getting more website traffic - Since the majority of searchers won't go past the first page of search results, websites will get the most traffic by being placed the highest. Only 0.44% of searchers go to the second page of search engine result pages (also known as SERP). The majority of users will only click on one website page throughout their search, with 42% of all traffic going to the top results.
Increasing business authority and credibility - Being in the top results of search not only increases your traffic, but it makes your practice appear more authentic in the user's eyes. Research shows that web users will consider the first few websites at the top of the results page to be more authoritative than the others below it. Authority is Google's way of determining whether your content is accurate and trustworthy. So, if your website is ranked highly on Google, it offers a sign of credibility to users that leads them to choose your page.
Increasing visibility and improving brand image - Being ranked highly on Google improves the overall impression people get of your practice, as well as increasing visibility to potential new patients. Search engines will list the most frequently visited and most reputable brand or practice within the area of focus that users are searching for. By improving authority, you increase ranking, elevate your practice's image, boost its reputation, and increase awareness of services. This all leads to higher conversion rates, which drives more patient volume from your digital front door through your physical front door.
Ranking highly in search results improves practice both socially and economically, getting the most traffic to the site, and getting people talking about the practice to increase brand awareness. You set yourself apart and become more competitive as a practice when your Google rankings are higher than the competition. Most small practices are not even aware that they can outperform health systems in both authority and rankings on Google.
How To Rank First on Google?
The key to ranking high in search is optimizing your website for Google's algorithm. This can be accomplished by utilizing a strategy that includes these three tactics:
Search Engine Optimization (SEO)
The most common way consumers find their doctors is through search, with 85% of people using local search. Search engines work by using an algorithm in real-time to bring you what they consider the best result. These results are chosen based on their relevance, authority, usefulness, and more.
With the rise of online searches, healthcare providers must optimize their websites for indexing by search engine crawlers. The process involves subtly and strategically preparing content so that it can rank ahead in relevant keyword queries or local listings on a particular region's SERPs (search engine results pages).
Using SEO tools and best practices gets you on the map and stand out from the crowd of other physicians. Some best practices to keep in mind are:
Use specific keywords to align your content with your target audience.
The optimized keywords have a considerable volume associated with it. We want to fish in a pond where there are fishes.
Create captivating titles and meta descriptions that include important keywords.
Include images and videos, but not too many – a slow website can alienate patients and negatively affect your rankings.
Use multiple backlinks (links from other pages) to indirectly tell Google that several websites cite your page as the source of information, improving your domain authority.
Format your text for easy readability.
Optimize your page speed and overall user experience.
A well-performing website with keyword-optimized content that offers a user-friendly experience will continue to distinguish you and attract new patients. In fact, 72% of marketers think that blog entries, videos, and journal papers are the most successful SEO strategy.
Listings Management
Listing management is quite important in today's digital world, since it allows you to keep track of your listings and maintain precise and up-to-date information such as your address, hours, and more. Some best practices to keep in mind are:
Remove any duplicate listings.
Keep all information up to date.
Add high-quality photos.
Encourage customer reviews.
In a technological environment where nearly half of all Google searches are conducted by consumers looking for local knowledge, it's vital that businesses have accurate and up-to-date listing information. Additionally, 15% of how Google ranks a company in search results comes from user reviews alone, making local listing management essential because it improves visibility and provides a personalized patient experience while also increasing volume.
Social Media and Advertisement
Finally, social media is where you can truly stand out as a competitor. Nowadays, every industry is employing social media in order to its advantage, which has resulted in a bare minimum standard for social media presence. Social media can improve your ranking on search engines in a variety of ways, such as:
By posting useful content on social media, you increase your reach and generate more backlinks.
Better information helps your social media profile rank in search results which can help grow your followers and gain traction.
Quality social media content enhances your practice's reputation and builds a community.
Links from your social media can help Google with indexation of your blogs and posts, which can lead to more search traffic and improved rankings.
Advertising on different social media platforms, consistently engaging with your target audience and building an active community of supporters can help your practice gain new patients. By utilizing these tactics, you can ensure that your Google rankings will improve. A majority of people find the service they are looking for by searching Google, so it is important that you show up on the first results page.
If you are interested in increasing your Google ranking, these strategies are exactly what PracticeBeat provides for you. Our all-in-one practice growth platform will create optimized content for your website and help you attract more patients than ever before. If you'd like to see how your practice is performing now, check out our free Online Testing Tool or schedule a free consultation with a digital strategist who will run the research and review it with you.
PracticeBeat helps practices grow by providing the tools and expertise necessary to outperform the competition. Let the innovative team at PracticeBeat assist physicians like you in attracting patients, growing your practice, and making both you and your patients' lives easier.
The pandemic has changed care models well beyond telemedicine, and independent practices are seeing major shifts in market share. If you'd like to receive PracticeBeat's powerful insight into the areas in which your practice may be losing patients to the competition, sign up for a free assessment of barriers preventing practice growth. We will show you how we help independent practices stay agile, adaptable, and competitive in our rapidly changing landscape.